Welcome to the new Food Mapping website!

From Farm to Plate
This food mapping project is a cooperative effort between the Environmental Studies Department, the Geography Department, Dining Services and the Middlebury College Organic Garden. We hope you enjoy this site.
Background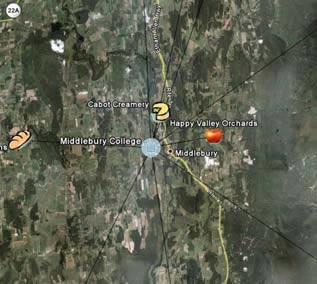 A.V. Davis Meal
Thursday Evening Meal for the A.V. Davis Foundation board meeting at Middlebury College Breadloaf Campus. October 9, 2008. Click on this link to download the kml file and start Google Earth.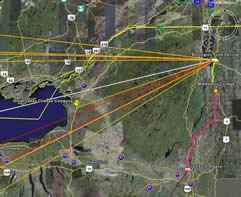 Chicken Parmesan Dinner.
This is a Middlebury student favorite. This map highlights the main ingredients including the chicken, pasta, and the dairy products. Click on this link to download the kml file and start Google Earth.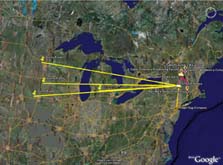 Breakfast.
You'll notice that more items for breakfast are purchased locally including dairy products, maple syrup and fruit when possible. Shell eggs are local, but scrambled eggs must travel from a long distance to reach the breakfast bar.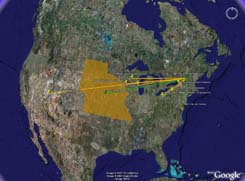 Mexican Lunch.
Taco/fajita day always draws crowds of students. This map highlights the journey of the main ingredients including the meats, cheeses and vegetables.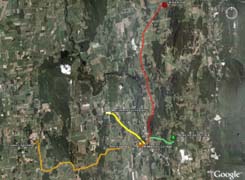 Thanksgiving Dinner.
For this meal, Dining Services features a showcase of local products. This feast is a dream come true!
The project was originally conceived by a former student, Chris Howell, and the research and mapping to date was done by Kayla Race, a senior in Environmental Studies and Studio Art Design.
There are several goals of this project. First, the project is really about helping people visualize connections to their food system in a fun and compelling way. The hope is that students, Dining Services staff, alumni, and the general public will begin to realize that they have choices, and that each choice has impacts on our environment as well as the local and national economy.
Below you will be able to visualize four meals served at the dining halls, a breakfast consisting of eggs and meat along with other dairy products, a Mexican lunch, a chicken parmesan dinner, and finally, a special Thanksgiving meal which includes a large number of locally-produced items.
We are continuing to expand on this project in several ways. First, we are developing follow-on internships for students with an interest in geography, economics, and/or environmental studies. Second, we are actively working with faculty here at Middlebury to incorporate this information into their curriculum. We also envision students being able to develop more maps as part of special class projects. The priorities for future development of this project include highlighting the local suppliers and showing the longevity of each vendor's relationship with the College. We are also interested in highlighting Middlebury's economic impact on the local and national economy by showing the flow and distribution of a dollar through a local vs. national food purchase. We would also like to highlight how Middlebury's food purchasing impacts our carbon footprint.
What software do I need to view these maps?
The maps on this website work with Google Earth, so you will need to have it installed on your local computer. If you don't have Google Earth installed, you can download it from the Google Earth Website. Download the free version – it's a great program. Currently, these maps are not set up to work with Google Maps which is a web-based mapping program. Because of the interactive nature of the maps on this site, we found that Google Earth is a more appropriate tool for this application, however we may try and port this application to Google Maps at a later date.
Need more information?
There are several people you can contact for more information on this project.
Bill Hegman is the GIS Specialist in the Geography Department. He oversees the project implementation and is responsible for this website. His phone number is (802) 443-5016.
Matt Biette is the Director of Dining Services. He can answer specific questions related to food purchasing costs and decisions.
Jack Byrne is the Campus Sustainability Coordinator. He can answer questions about how this project fits in with the campus-wide sustainability initiative. Click here to find out more Middlebury's sustainability initiatives.
Jay Leshinsky is the Director of the Middlebury Organic Garden. He is an excellent resource on local food initiatives.
Last updated September 18, 2008